Happy New Year 2011! It's the first day of the new year and I am in very sunny Pasadena on my way to the Rose Bowl! Hopefully we will see the TCU Horned Frogs beat the (football) pants off the Wisconsin Badgers.
As I sit here in the hotel lobby, I am surrounded by Badger fans. Note to self - next Rose Bowl, don't book a room at one of the opposing teams fan hotels. I am very conspicuous in my purple t-shirt and tennis shoes. I didn't outfit myself in all of the required paraphenalia - thank God - quite yet.
Also - other note to self - don't book a hotel on the Rose Parade route. As we drove home last night from the Purple Pep Rally, I thought we had entered Hoboville. These Pasadena people actually camp out, in the COLD, to stake out a good parade viewing spot. And they have it all - barbeque grills, inflatable beds, TVs, silly string. We're pretty sure we saw someone with two computer screens doing a podcast out on the sidewalk at 11:00 p.m. A fun family tradition. I love it!
Have a great day today and check back in with Tennis Fixation as we shake off the holiday laziness and get back to helping you (and me!) play your absolute best and funnest tennis ever. Happy New Year!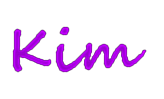 © Kim Selzman 2011 All Rights Reserved